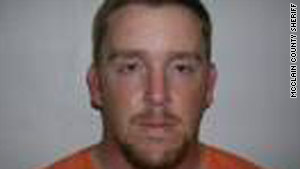 A manhunt was under way Sunday for an Oklahoma jail inmate who overpowered two deputies and stole one deputy's car in escaping from custody, authorities said.
Shaun Bosse, 27, is charged with three counts of first-degree murder and one count of arson. He is accused of killing Katrina Griffin, 24, and her two children -- Christian, 8, and Chastity, 6 -- on July 23, according to CNN affiliate KOCO.
Bosse stole a black 2004 Pontiac Grand Prix in his escape, said McClain County Undersheriff Bill Shobe. The car, which was newly purchased, has a paper tag, he said.
The car was last seen going northbound out of Purcell, Oklahoma, at about 10:25 a.m. (11:25 a.m. ET), Shobe said.